Special Events Committee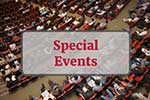 Contact Name: Inactive at this time
Contact Number: (631) 283-9648
Contact: Please fill out the Contact Special Events Committee form at the bottom of this page.
The Special Events committee does much more than plan fundraising activities. It also seeks to raise LWVH's visibility in our communities by providing a diverse range of enjoyable activities open to members and non-members.
For example, our annual Autumn Luncheon and Fundraiser combines getting together with new and old friends, local officials and prospective members with the opportunity to have fun and raise money.